Design Ideas for Green School Grounds

Your Greening School Ground Project
Many school ground improvement initiatives include 'greening' projects. We know instinctively that children thrive in natural settings with opportunities to engage all their senses in exploration of nature, with a growing body of research supporting this. 'Green' or natural areas have great play value and promote children's physical, mental, emotional and social development (see Children and Nature). They can also be cost effective and environmentally sustainable. In addition, they provide important learning opportunities that can be successfully linked to curriculum.
Greening school grounds projects can be as simple as a 'no mow' area or planting native trees and shrubs. Many schools start with a small project or two and then develop their grounds over time, as funding becomes available. This is an excellent way to proceed.
We are fortunate that many schools in New Brunswick have natural areas on or adjacent to school property that, with a little enhancement, make wonderful learning spaces. But even schools with limited outdoor space can be transformed into exciting, educational spaces with a little creativity.
How to get Started?
We suggest you bring together a team of interested teachers, principal, parents, community members – and students! Have a good look at your school grounds and identify natural features that could be highlighted, as well as areas you would like to transform. Brainstorm about the types of projects that your school community would like. Some schools want nature trails and woodland seating areas. Others want students to learn about growing food and so build vegetable gardens. Go with your strengths and come up with a plan that will work for your school (Learning Outside can help you!).
It's a good idea to think 'big picture' and then break down your plan into projects that can be achieved in stages, building on your successes. Don't forget that in addition to beautifying your school grounds and creating play areas for children and habitat for wildlife, you will be enhancing learning opportunities across all subject areas for your students (and teachers!).
The websites below offer some great ideas, design principles, guidelines, and more for your school ground greening and outdoor classroom projects.
LINCOLN ELEMENTARY SCHOOL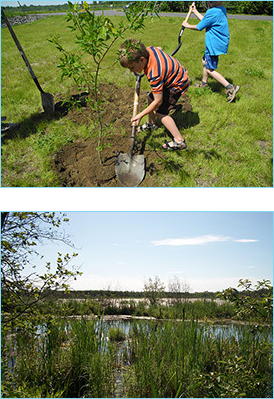 Learning Outside has been working with the Lincoln Elementary Community School since 2014. The school property includes a large natural area that extends down through a wetland to the silver maple forest along the Wolastoq (St. John River).
We helped establish a nature trail and developed learning stations that include signs to encourage observation and discussion (which can be used for curriculum activities) and trail side boxes for stashing worksheets, scavenger hunt clues, field or trail guides, binoculars or whatever an activity-leader may want available during an activity. A message centre and arbour mark the entrance to the trail, which is open to the public outside of school hours.
For several years, we have led school classes in outdoor educational activities on a regular basis.
The Nature Conservancy's Lincoln Wetland Conservation Area is adjacent to the school property and the Nature Conservancy, the Conservation Council and the school partner on trail maintenance and community and school activities.
KESWICK RIDGE COMMUNITY SCHOOL
In 2011, a pilot project at Keswick Ridge Community School was initiated. This began with a visioning process involving the school principal and staff, the school district community school coordinator, along with community organisations and interested individuals. In June 2012, students participated in planting vegetable gardens, bird and butterfly gardens, native trees and shrubs, along with refurbishment of a woodland trail.
The entire teaching staff took part in an all-day training workshop in August 2012 and now regularly take their classes outdoors for various activities.
Learning Outside continued to work with the school, developing learning stations and interpretive signage for the nature trail, along with installing a message centre at the trail entrance. As sometimes happens, great initiatives can suffer setbacks. Post-tropical storm Arthur severely damaged the woodland trail a few years ago, although teachers continue to encourage outdoor learning. In Spring 2019, the Conservation Council and the school, along with community partners, will refurbish the trail (once again) and help the school move forward with its outdoor projects.
The Keswick Ridge School pilot project remains a good example of the whole-school approach that we are sharing with interested schools, educators, organisations, community groups and the public and reminds us that sometimes there will be setbacks, but they can be overcome!
ECOLE WESTFIELD SCHOOL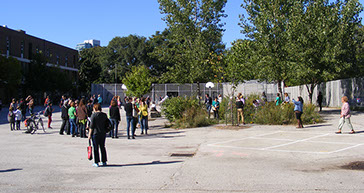 This K-Grade 5 school in Grand Bay-Westfield has 260 students and about 23 staff.
The outdoor classroom is used for reading, writing, art, and science experiments. A small raised garden bed grows not just vegetables, but confidence and community. Every spring, kindergarten students plant potatoes, carrots and other vegetables. Come Fall, these students, who are now in Grade 1, welcome the new Kindergarteners by harvesting the vegetables and making 'stone soup' with them. This simple activity creates a lovely mentoring opportunity, with the new students being welcomed each year and the next year becoming mentors themselves. Teachers read 'Stone Soup' (literacy curriculum link) and, as with all good stone soups, others get involved by contributing additional ingredients, turning it into a school community celebration.
Bienenstock Natural Playgrounds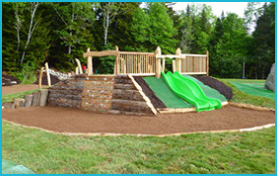 Bienenstock Natural Playgrounds is an Ontario-based landscape design firm that creates nature-based play spaces. They created a 2.5 acre site in
Fundy National Park
in 2014, which includes a zip line, climbing walls and a massive chunk of black walnut, serving as a jungle gym.
See their website for inspirational photos and project ideas.
Tír na nÓg FOREST SCHOOL
Lisa Brown opened the Tír na nÓg Forest School in Roachville, New Brunswick (near Sussex) in September 2013, the first Forest School in New Brunswick. Currently the school offers programs in Quispamsis, Saint John and Sussex. The forest school's
website
has loads of information and resources.
LISA'S PLAYHOUSE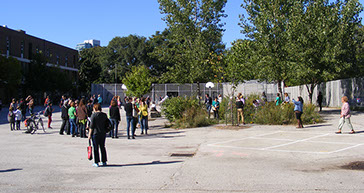 Lisa Brown also runs Lisa's Playhouse, Children's Learning Centre, in Roachville. Here one finds all kinds of fun, creative outdoor spaces for the daycare and preschool children.
Lisa uses all sorts of natural materials as well as recycled materials. Note the pipe used for a 'whisper tunnel', milk cartons and old tires for stepping stones/seating, and hub caps for music-making. There is also an outdoor classroom (the blackboard has survived three winters so far) and an 'Alphabet Trail' through the woods ('G is for gingerbread').
JACKMAN AVENUE PUBLIC SCHOOL
Jackman Avenue Public Schoo
l in Toronto has been working on school grounds greening projects since 1999 and has attained the Toronto District School Board's
EcoSchools Platinum Certification.
Jackman Avenue is the first school in the Toronto District School Board (TDSB) to have a retrofitted green roof.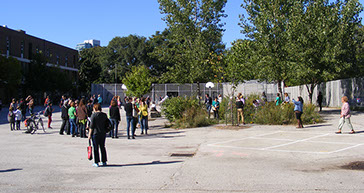 Dozens of mature trees have been planted, and a big portion of asphalt was turned into gardens. Among the different gardens is a vegetable learning garden and a maze of native grasses. A stone amphitheatre was also built to serve as an outdoor classroom. Jackman's school yard provides a healthier environment for students to play in, as well as many opportunities for ecological learning.
The Jackman school community also works hard to reduce waste. Students are encouraged to bring litterless lunches and compost all organic matter. There is a recycling program for paper, bottles, cans, juice boxes and ink cartridges. The students are in charge of collecting both compost and recyclables. The school newsletter is posted on their web site, significantly reducing the amount of paper consumed.
As part of efforts to conserve energy, trees were planted adjacent to the building to provide passive cooling, solar blinds and ceiling fans were installed, and UV film was placed on the windows. The green roof also helps keep the building warmer in winter and cooler in the summer.
CASSANDRA PUBLIC SCHOOL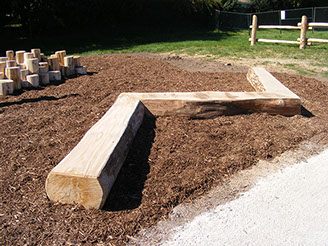 Cassandra Public School is an EcoSchool in North York, ON.
Their greening of the schoolyard began with parents and students planting perennials in the flowerbeds in front of the school. A teaching vegetable garden and composting area was also created. These areas are maintained by the "Summer Sprinklers" – families who sign up for weekly watering!
Concern for shade for the students prompted the planting of many trees, and an "Outdoor Classroom" has been installed and growing. Also an "Amphibian Oasis" was created for additional outdoor learning areas and a solution to standing water issues on the property. Cassandra public school's outdoor spaces also include a kindergarten playground with logs, rocks, and sand providing opportunities for creative play. The school also has solar panels – see what they are doing right now!
BOOKS AND ONLINE PUBLICATIONS
USEFUL WEBSITES
Funding sources
Sources of Funding for Outdoor Learning
You have a great idea, now you want to make it reality. Build your team of teachers, parents, community members – you may find that much of the needed expertise and resources are readily available at little or no cost. Local businesses may be willing to donate materials or give discounts. However, you will most likely need some money in addition to these donations of time, expertise and materials. Fortunately, there are a number of funders that are interested in your application! Here are some major funders of projects in New Brunswick (you may also want to check your local Community Foundation and other sources):